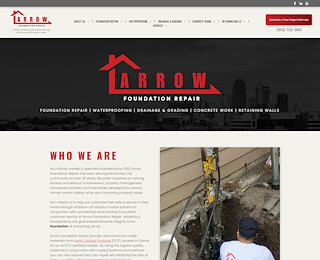 If you're looking for a service contractor who will take care of your house or building waterproofing needs, drainage construction, and concrete and foundation repairs, you came to the right place. Stop using the services of contractors who have not proven themselves in the field of foundation repair and waterproofing. Trust Arrow Foundation Repair for a dry basement in Johnson County.
For over 20 years, Arrow Foundation Repair has become the most reliable brand for foundation repairs and waterproofing in Kansas City. Here at Arrow Foundation Repair, we offer quality service for a fair and reasonable price. As proof of our professional and high-quality service, we are proud to say that we have been given an A+ BBB rating.
Whether it is for a residential building or a commercial one, we've got you covered. We have expanded our operation across the entire Midwest while maintaining our headquarters in Kansas City. Being in the business for quite a long time, we have managed to develop and keep our long-term relationships with real estate developers and other property management institutions. Whether it's mudjacking, surface drainage repair, foundation repair or basement crack repair, we can provide guaranteed quality engineered results.
These are the specific services we offer:
Basement Waterproofing
We specialize in repairing basement cracks. The method that is appropriate to fix the crack will depend on your specific circumstances. The most common method of crack repair is sealing the crack from the exterior wall. The exterior of the cracked area is dug to see the extent of the damage. After which, the wall is cleaned, and a flexible membrane is spread over it to backfill the open area.
We are also capable of using the epoxy crack injection mechanism to repair cracked areas.
Aside from repairing basement cracks, we are also well-versed in drain tile system repair, leaking basement fixing, and in waterproofing membranes. So, if you want to avail of our services, key in "dry basement Johnson County" on your search engines and you will be led to us.
Foundation Repair
If you experience any of these, then give us a call.
Sinking or tilting concrete stairs
Unstable and mispositioned smokestacks
Visible linear cracks on foundation walls
Broken stone surface or outdoor stucco
Broken and dropping slabs
Cracks in drywall
Hard to open or close windows
Aside from these, we can also repair your deformed or bent basement wallsand cracked wall anchors. Also, we provide services such as foundation piering, crawl space mending, foundation heaving, and commercial foundation piering.
Drainage Repair
Whether it's yard drainage, French drain, downspout drain, or surface drainage, we can fix it.
For Kansas City homeowners, we provide free cost estimates. This is our simple way of giving back to the community who has patronized our services all through the years. So, if you have a damp basement or leaky drain, call us today. We will take care of your problem. If you're checking on the net, type "dry basement Johnson County" and you will find us.
Dry Basement Johnson County